Make your warehouse competitive with warehouse management
Do you have a competitive warehouse? Get suggestions to how you can increase your business' warehouse efficiency and competitive parameters with warehouse management. 
What you need to know about warehouse management
Do you question what a warehouse management system is or whether you need one? 
Whatever you seek answers to one or the other, stay tuned and get the answers to your questions.  
With an Apport WMS, you can reduce your warehouse costs without your business having to compromise its logistics, quality, and efficiency. Warehouse management automates your business' manual procedures and thus provides your employees surplus energy and overview that enable them to succeed in working faster and be better problem solvers.    
Utilise your warehouse correct 
Let us get straight to the point: what is efficient warehouse management? 
Warehouse management is about increasing the business' warehouse efficiency by creating overview, reduce errors and inventory shrinkage.
In brief, you can optimise the utilisation of the space in your warehouse, which has a positive effect on customer satisfaction.  
WAREHOUSE OPTIMISATION 
Efficient warehouse management  
With Apport's warehouse management system, your warehouse routines are streamlined with the latest technology within logistics- and warehouse optimisation. Meaning, you can, among others, get warehouse management with software and technological initiatives including, voice-controlled picking, voice control, wireless data capture, and barcodes which, moreover, can contribute to an average efficiency of 25-40% in the warehouse. 
What is warehouse management?
With warehouse management, the system itself optimises the entire process from receipt to shipment by placing the goods as close as possible to the locations they are needed. This can be your shipping and picking stations. Also, warehouse management provides your employees with what to pick and which orders to pick simultaneously – called batch picking, and thus provides more efficient working routines and minimises error picking. Hereby, you also avoid errors in the shipments.
Warehouse management provides overview
Now that you know what efficient warehouse management is, let us dive a little deeper into some of the advantages of warehouse management. Above all, you get an overview, as you can settle and report concurrently with the work. Thus, you get a full overview of what item numbers are in stock, which items soon need to be ordered more of, and which items sell better or worse than expected. Also, warehouse management facilitates your employees' work when counting and do inventory, as well as minimises the need of a buffer-warehouse.
Constant improvements with warehouse management 
You should not think of warehouse management as static after the implementation, but rather dynamic.
As the system provides you with continuous measurements, it acts as the foundation for profits and constant improvements concurrently with new initiatives. Warehouse management can ensure improved customer service for your business, accurate inventory, increased flexibility and not least, make the handling of returned goods easier.
Not only are the technologies within logistics- and warehouse optimisation increasing the warehouse's efficiency, e.g., Apport's Voice Picking is able to replace the traditional picking routines normally done with pen, paper, and Excel-sheets. The warehouse employees are simply equipped with handheld terminals that informs simultaneously while the commands appear visually on the screen. In all its simplicity, the employees are told where to go and what to do. In addition, the work tasks can be completed faster and with reduced errors. Ultimately, warehouse management awards your business with a crucial competitive advantage. 
WMS optimizes the warehouse with
25-40%​
Are you still left with the question: Do I need warehouse management?
No worries, that is understandable. You may think: can I just settle for a WMS module in my ERP system, or do I need a dedicated WMS? 
If you are a small business, you might hear that it is normally enterprises with a huge warehouse and busy processes that need warehouse management. However, even a small business needs to be in control of its warehouse, have efficient employees, and satisfied customers.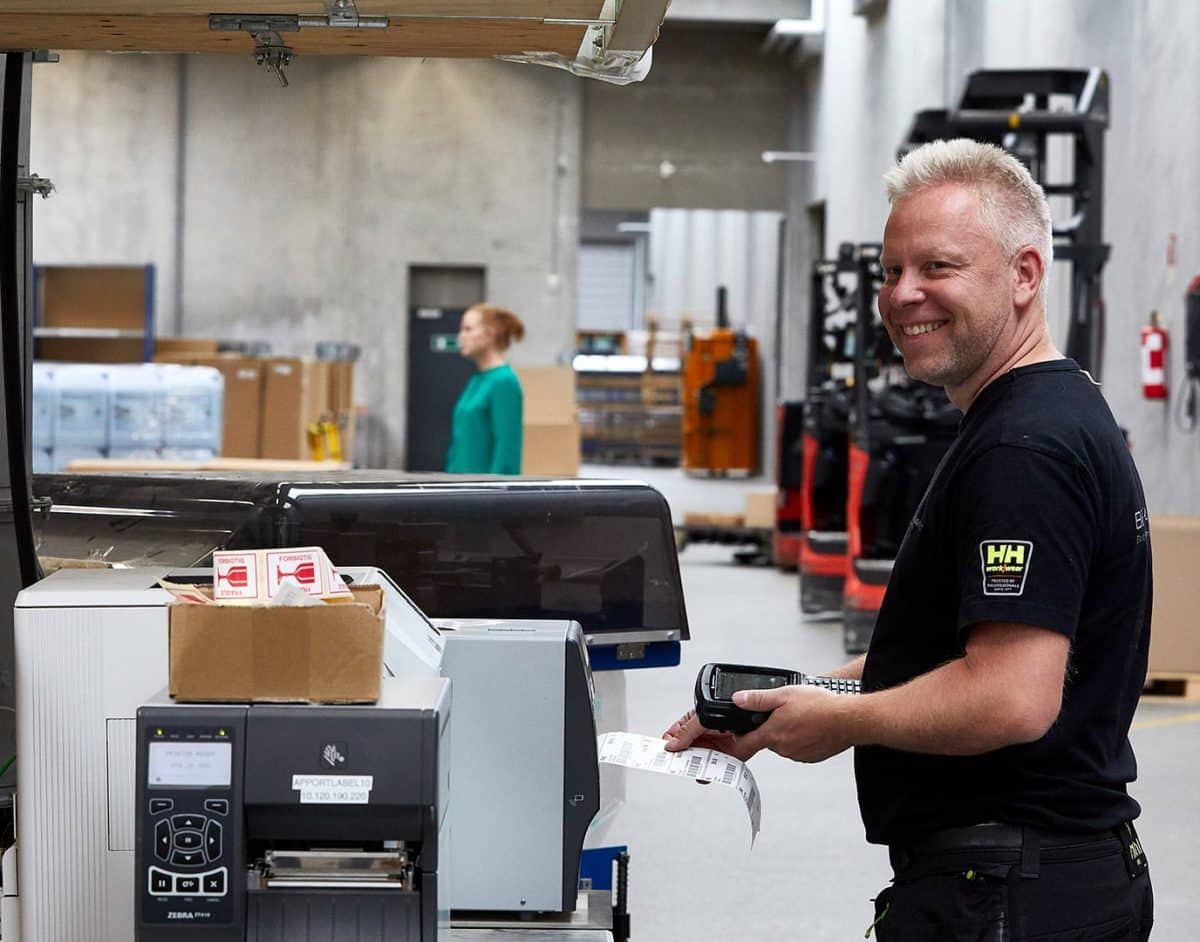 For businesses in growth where the number of orders per day on average, the number of product lines per order on average, and where the number of employees increases, there is certainly potential for efficient warehouse management. And why not already start considering warehouse management before the warehouse hinders growth? 
"Even a small business needs to be in control of its warehouse."
A well-functioning WMS
The need for warehouse optimisation is usually the main reason why e-commerce businesses invest in professional warehouse management. Though, did you know that a dedicated WMS additionally provides several indirect benefits that are fast-spreading from the warehouse to the rest of the organisation? 
Apport WMS is a solution that supports each step within the product's journey, creates overview, and structures work for the warehouse- and logistic operators, as well as allowing integration with the suppliers' warehouse and a possible webshop. Moreover, the solution supports additional functions, such as stocktaking, BI, monitoring, and reporting. You can read more about the functions of Apport WMS here. 
Meet some of our customers
More than 100 companies put their faith in Apport WMS. We help them strive towards delivering the right products at the right time for their customers. Meet some of them here.